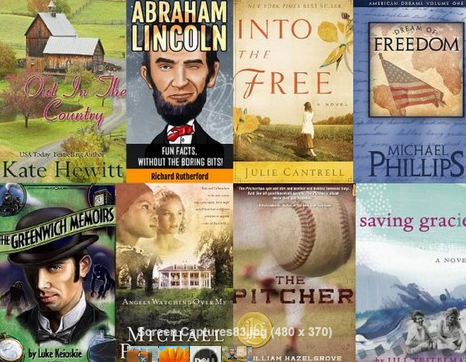 Every day Amazon offers a selection of Romance, Science Fiction, Fantasy and Teen titles at a discounted price.
Kindle Daily Deals – Each day they unveil new Kindle book deals for adults and young readers with prices usually ranging $1.99-$2.99. Here are today's selections:
Kindle Daily Deal: [easyazon-link asin="B00AEBERQI"]A Hundred Summers[/easyazon-link] by Beatriz Williams $2.99
Science Fiction & Fantasy Daily Deal: [easyazon-link asin="B00BFVOGUI"]Overdraft: The Orion Offensive[/easyazon-link] by John Jackson Miller $1.99
Romance Daily Deal: [easyazon-link asin="B004HKINVC"]Love's First Light[/easyazon-link] by Jamie Carie $0.99
Children and Teen Daily Deal: [easyazon-link asin="B003SE75ZS"]I Am Number Four (Lorien Legacies)[/easyazon-link] by Pittacus Lore $2.99

Kindle Monthly Deals – Each month they unveil a new collection of 100 Kindle books for $3.99 or less.
Thanks To Rose Knows Coupons here are some FREE kindle titles available for download at the moment:

Romance

Phone Kitten: A Cozy, Romantic, and Highly Humorous Mystery
Come the Dawn (The Dangerous Delameres – Book 2)
A Proper Companion (A Regency Romance) (The Regency Rakes Trilogy)
Flirting with the Fireman: A Romantic Short Story
Contemporary
Historical
Daughters of the Revolution and Their Times 1769 – 1776 A Historical Romance
"It's Not My Mountain Anymore"
Angels Watching Over Me (Shenandoah Sisters Book #1)
Christian, Religious & Inspirational
Take Words With You: Scripture Promises & Prayers
Tears Fall at Night – Praise Him Anyhow Series (Book 1)
Dream of Freedom (American Dreams)
SYNC: How to Know God's Will for your Life
Young Adult
Witchwood Estate – Ferntree Falls (book 2)
Mystery, Suspense & Action
Whiskey Rebellion (Romantic Mystery/Comedy) Book 1 (Addison Holmes Mysteries)
The StoneCutter (S.Lasher & Associates)
Truth Kills (An Angelina Bonaparte Mystery)
Paranormal, Fantasy & Science Fiction
Inspector Hobbes and the Blood: A Fast-paced Comedy Crime Fantasy (unhuman)
Home, DIY, & Crafts
A Dark Kiss of Rapture (Renegade Angels)
Lethed (A Guardian of the Angels Novel)
Children's
Abraham Lincoln : Fun Facts, Without The Boring Bits!
Betty's Dream Party (Bedtime stories children's book ages 2-6, Beginner Readers eBook Series) (Colorful Children's Books Collection)
Biographies & Memoirs
Indie Chicks: 25 Women 25 Personal Stories
Bloom: Or, the unwritten memoir of Tennyson Middlebrook
When a Flower Grows in the Street
Cookbooks
Delightful Pudding Recipes: Quick and Easy Dessert Recipes
Heavenly Burgers and Shakes: Quick and Easy Cooking
Cocoa Dessert Recipe: Step-By-Step Photo Recipe

Remember that you do not need a Kindle e-reader to be able to read this book. You can read it on your PC, iPhone, iPad
, Blackberry and Android. Just download for free the appropriate application to be able to do that. Amazon changes prices without notice, so make sure to check that the kindle price it is still $0.00 before you start downloading this book.