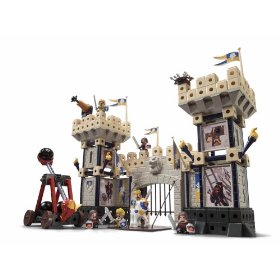 There's a really good deal on the Trio Castle at Kmart this week.  It's on sale for 50% off or $29.99.  Use the $5 off printable coupon to get it for $24.99 only.  That is a steal considering that Amazon had these "on sale" a few weeks back for $54.99.  I am so glad I held out.
You may want to think twice about price matching this item at Target and use the $10 off Target coupon available.  Unfortunately as per Target's Price matching policy the Target coupon will be deducted first prior to the price match.  Since Target sells this for over $50, price matching is pretty pointless.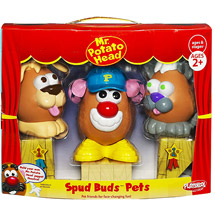 Playskool toys are on sale buy two get one free.  Last time I was there I checked on the price of some of these toys.  I was actually looking at the Playskool Spud Buds.  The regular price was $10.99.  You can get them very cheap by doing this:
$32.97 when you buy three Potato Spud Buds
-$15 when you use three of the $5 off printable coupons (one coupon per item) here and here
-$10.99 deducted by the buy two get one free sale
Pay $6.98 plus tax for all three
I am going to try to hit my store later today and see what other deals can be had on the Playskool toys.  If you find any other deals please share with us in the comments section.