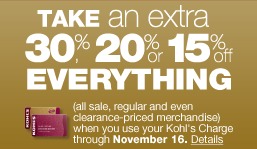 If you are a Kohl's card holder you can stack the following Kohl's coupon codes to get 30% off and 15% off your online order.  Plus you also get free shipping on orders of $50 or more.
NOVSAVINGS for 30% off AND 
PGO15OFF for 15% off $100
SHIPMVC for free shipping with no minimum order using for card
If you DON'T have a Kohls charge card, you can use promo codes: HOLIDAY15 (15% off) and PGO15OFF (15% off) at checkout. Plus you also get $10 in Kohl's Cash for every $50 you spend.  These are great offers to combine to get some of those Holiday Gifts checked off your list.
I know some of you are always looking for deals on K-Cups.  Some of the 18 count boxes of K-Cups are on sale for $11.99 (final price shown once you add it to cart).  You could get the cups for as low as 41 cents with these coupons.
Thanks, Money Saving Madness!