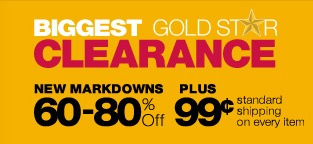 Great time to go bargain hunting at Kohl's.com right now.  A lot of items are on clearance as much as 90% off.  Plus make your deals better by using the code SMS7873 to get an additional 20% off.  Also, through 2/5 get $10 in Kohl's Cash for every $50 you spend.  Shipping right now is 99¢ per item or free with a $75 purchase.
Here are some deals:
Girls tops for $$4.30 after code
Holiday Clearance as low as 39¢ after code
Happy Bargain Hunting!