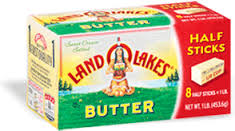 Did you print the Land O Lakes butter coupons yesterday? If not, make sure you do before they reset tomorrow and head to Walmart, where it's normally around $2.18.
Buy (1) Land O Lakes butter half sticks
– Use (1) $0.50 off LAND O LAKES Half Stick Butter

Pay just $1.68!
I don't know what the price of REAL butter is like where you live, but this is a pretty decent deal, considering a box of butter is usually over $2, even the generic brands.