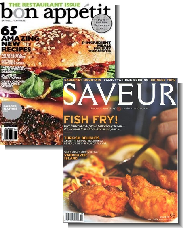 Discount Magazines is currently offering a few magazine package deals.  With these deals you can get two magazine subscriptions for as low as $4.97/per year for BOTH!  Plues they have packages to fit different interests.  See all packages here:
Food & Cooking Pack (Bon Appetit & Saveur) $9.97/year
Coupon Code: PACKDEAL
Business Pack (INC & Fast Company) $4.97/year
Coupon Code: PACKDEAL
Photographer's Pack (Popular Photography & American Photo) $7.97/year
Coupon Code: PACKDEAL
Science & Technology Pack (Popular Science & Wired) $9.97/year
Coupon Code: PACKDEAL
Sports Package (ESPN & Sporting News) $9.97/year
Coupon Code: PACKDEAL
Men's Interest Pack (Maxim and GQ) $4.97/year
Coupon Code: PACKDEAL
There are limited quantities available. These deals expire on or before Sunday December 26, 2010 at 11:59:59 P.M PST.  I also wanted to point out that Discount Magazines states on their FAQ that these are not auto-renew subscriptions.  This is what the site says:
Will you automatically renew my magazines?
We will never automatically renew your magazine subscription, nor will we ever in any circumstance charge your credit card unless you physically go to our store and type in your credit card information to place another order. Often times publishers will send you a "renewal notice/invoice" when your subscription is coming to an end. These mailings are not coming from us. If you do not wish to renew your subscription, simply ignore these letters in the mail. The only time we will charge a customer's credit card is on the day they made their purchase on our website. Customers will never be recurrently charged for anything we sell.