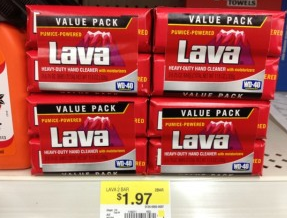 There is a new $1/1 Lava soap printable coupon available.  This is a heavy duty hand soap that you can find in the automotive section at Walmart, not with the rest of the hand soaps.  You can grab the following deal
Lava soap 2ct bar $1.97-$2.17
Use $1/1 Lava soap printable coupon
Pay as low as 97¢ after coupon
That works out to be just 47¢ per bar!  Check other Walmart deals here.
According to the Lava Soap website:  Whether you're a master mechanic or a weekend gardener, you're going to want to get your hands on Lava. The power of pumice is the key to its effectiveness. Grease, grime, oil, tar, ink, paint, glue, resins, adhesives, caulk — Lava cleans it all!
It looks like it is a great soap to have a round for when your hands get really dirty.