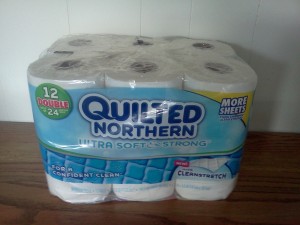 Let's talk about toilet paper today!
Before you click away, hear me out. I know it's not something that most of us want to talk about on an everyday basis, but why not? It's something that we all use (hopefully) each and every day, and it's something that must perform to the highest standards. Plus, I have some REALLY exciting news from Quilted Northern that I'll share with you at the end of this post, so stick around!
Agreed? Great!
With that being said, let's get down to business.
A while back, I was chosen to review Quilted Northern's new Ultra Soft & Strong bath tissue – also known as toilet paper, toilet tissue, TP, and other more colorful names that I can't repeat here. I'll be the first to admit that I didn't normally buy Quilted Northern unless it was on sale and I had a coupon. I simply didn't want to flush money down the drain on some fancy pants toilet paper. It just didn't make a whole lot of sense to me.
However, the new Quilted Northern Ultra Soft & Strong may have converted me to a die hard QN fan!
The name Ultra Soft & Strong definitely fits! Quilted Northern Ultra Soft & Strong® combines strength and flexibility to deliver a confident clean where it counts.
Like other types of Quilted Northern, it's definitely super soft. It's also thick and strong, so you don't have to worry about having a toilet paper fail on your hands when you use it. Oh, and did I mention that it's stretchy too?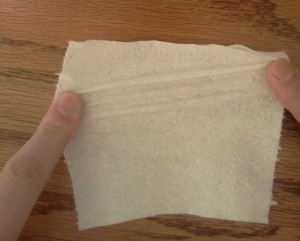 I can tell you that it sure beats the thin little rolls of sandpaper toilet paper that hubby brings home when I send him to the store. Is it just my hubby, by the way? I swear – they must have tougher butts than we do!
I just know the next burning question you have…
But how well does it clean?
Without going into too much gruesome detail, I will tell you that it does a pretty awesome job! The Quilted Northern Ultra Soft & Strong has little embossed pockets on one side, which – I believe – helps grab all those little bits that you just don't want hanging around your nether regions. It certainly wipes up the competition in most, if not all, areas.
I did have one small problem when I switched out our regular toilet paper with a roll of Quilted Northern. I must admit, though, that it wasn't really a problem with the toilet paper itself, but more of a problem with the people actually using it.
Since we were so used to other brands of more flimsy toilet paper, at first we were using way more of the Quilted Northern than we actually needed! Unlike lower quality toilet paper, a little really does go a long way. My kids gave me a look of horror when I pulled them into the bathroom to explain this point, but I think it was worth it. Since our little talk, the rolls actually last a lot longer than our previous brand. So, in the long run, the Ultra Soft & Strong may actually save us money since we use a lot less.
While I may still buy other brands of toilet paper when I can get a smokin' deal on it, I must say that our experience with Quilted Northern Ultra Soft & Strong has made me pretty brand loyal. I'll definitely be stocking up when it's on sale and I have coupons!
Okay, now for the REALLY exciting news! We've partnered with Quilted Northern to give away an entire year's supply Quilted Northern Ultra Soft & Strong bath tissue to one lucky reader! We'll start our giveaway tomorrow afternoon, so be sure to check back for all the details!
In the mean time, why not give Quilted Northern a "Like" on Facebook and print a couple of coupons? Also, make sure you check out the newest member of the Quilted Northern team – Emily, an inquisitive little girl who's always looking for a good experiment, to help test the strength and flexibility of Quilted Northern Ultra Soft & Strong®. Emily's fun and full of curiosity, always looking to put Quilted Northern® to the test, and she loves a good experiment, and isn't afraid to try new things. Check out Emily's World here to see what she's been up to lately!