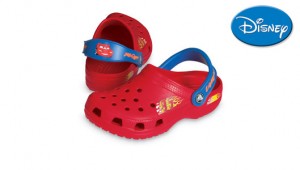 I am calling this a lightning deal because there are four cute styles of licensed character Crocs Cayman available at Crocs outlet store for $9.99.  This is the "Deal of the Week" and you will see it advertised on the lower left corner.  There are only 4 styles and the sizes are limited but the styles are cute: Disney Cars, Dora, Bob the Builder and High School Musical. Also check either under Boy or Girl outlet and you will see Disney Kids Cayman for $9.99 as well.
I am guessing sizes will start going really fast.  Don't forget to use the code KIOSK09 or SPRINGCUSTOMER09 for FREE shipping
I just started using Crocs and I love them.  I will be showing you soon the cute ones I got.  Now I want to get a pair each for my kids.  Edited to add: I did get a pair of Bob the Builder for my oldest.  No size available for my youngest.