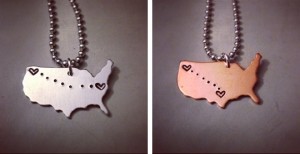 This would be the perfect gift for a long-distance loved one. These long-distance USA pendants come in aluminum and copper, and they're hand stamped with hearts in two different states that you choose. One heart in your state, and one heart in your loved one's. So sweet!
These are normally $30.00, but they're on sale right now at Jane.com for only $14.99. You can choose either a 24″ or 18″ chain for each necklace. Shipping is $3.50 for the first necklace and $1.50 for each additional necklace.
There are very limited quantities of these – only 60 left when I looked! You'd better hurry!
Read our tips for holiday shopping on a budget while you're here!