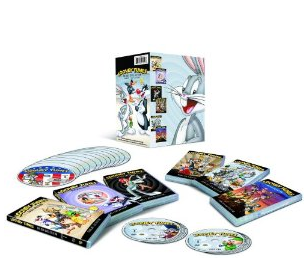 Today's Amazon Gold Box Deal of the Day is the Looney Tunes Golden Collection 1-6 (2011) for $64.99 (down from $114.92) plus FREE Shipping! 
Propelled by the creative genius of Tex Avery, Chuck Jones, and Friz Freleng, Warner Brothers' Looney Tunes introduced the world to some of the greatest cartoon characters to ever grace the animated cel: Bugs Bunny, Daffy Duck, Porky Pig, Elmer Fudd, Yosemite Sam, Foghorn Leghorn, Speedy Gonzalez, Pepe LePew, Wile E. Coyote, Road Runner, Tweety, Sylvester, Marvin the Martian, Tasmanian Devil, and many more. This release includes the first six volumes in the Looney Tunes Golden Collection.
This offer is good for today only while supplies last.  Amazon pricing can change without warning.