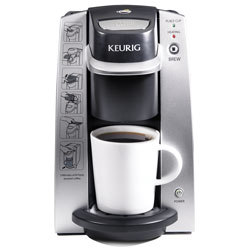 If you are in the market for a Keurig coffee brewer, then let me tell you about this deal from Office Depot.  The store has the Keurig® B130 In-Home Brewer for $69.99.  Use the coupon code 36302296 to get $10 off your order and only pay $59.99.  This item ships free too!
Product Features
Choice of 1 cup size (8 oz.)
Single-use water reservoir
Pictorial instructions
Mug sensor
Energy Savings Mode – Auto Off
Now, if mom could just have her cup of coffee or tea in peace, then she would be set ;-).
Thanks STL Mommy!