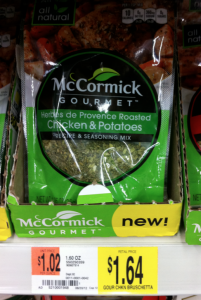 Several of us received the new $3/2McCormick Seasoning Coupon in the Red Plum Coupon Insert on 9/16. If you have it you don't need to use it on the expensive bottles. A better buy is to use it on the 1-2 oz pouches shown here at Walmart and get them for only 14¢ each.  Here are the details:
Walmart Scenario:
Buy (2) McCormick Seasonings Pouches – $1.64 each
Use $3/2 McCormick Gourmet Herbs & Spices from RP 9/16 (exp 10/14)
Pay 14¢ each after coupon!
Prices may vary by region.  Check out all the best Walmart deals here.  I'm sure these are priced similarly at other retailers as well. 
Thanks The Wally World Woman (photo credit)