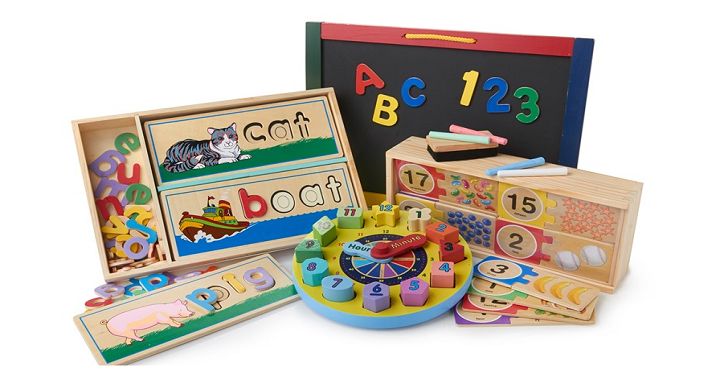 Today only, June 28th you can get the Melissa & Doug Skill Builders Educational Bundle for only $42.99! This set includes:
Wooden Shape Sorting Clock
A colorful wooden clock features 12 shaped wooden blocks that fit into matching slots, plus movable hands
With lots of "timely" information on the hands and clock face, this is the perfect toy to help children master an abstract concept
Self-Correcting Number Puzzles
Match these wooden puzzle pairs to make mastering numbers as easy as 1, 2, 3
Groups of objects illustrate numbers 1-20
The puzzles are self-correcting, each piece has only one match that fits, so children can play independently and learn at the same time
Magnetic Chalkboard and Dry-Erase Board
One side is a dry-erase board, the other is a magnetic chalkboard
Comes with three sticks of colored chalk and a dry-erase marker
Also includes 36 magnetic letters and numbers
See & Spell Learning Toy
Complete a puzzle to spell a word
This handsome wooden puzzle set helps children gain familiarity with the letters of the alphabet and their sounds as kids develop a sight-reading vocabulary
The letters are also wonderful for stenciling and lots of learning games
Over 60 colorful wooden letters fit into the eight two-sided cutout boards to spell three- and four-letter words
All this spelling and fine motor fun fits into one compact wooden storage case
$5 Ships Your Entire Order! One $5 charge covers standard shipping to a single address for everything in your cart, as long as it's all going to the same address!