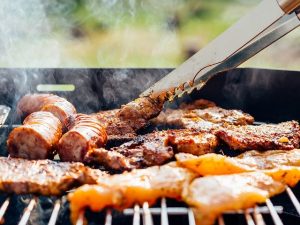 With the weather warming up, many of us love having our friends and loved ones over for BBQ and outdoor parties.  This year is looking to be a little bit different though. That's why we decided to talk about some money saving tips for a low key BBQ. For some areas, staying at home is staying, and for others, they are moving back to eased up social distancing (groups of 10 or less, etc), so whether you are having a neighborhood BBQ (with everyone grilling at their own home, social distancing of course) or with just your immediate family and a couple extras, there are some tips that you can follow to save money.
If you are looking for ideas on how to have a successful cookout, here are some money saving tips for a low key BBQ that will help you!
Money Saving Tips for a Low Key BBQ
Cook easy foods
C'mon, y'all. As much as a grilled steak makes our mouths water, it's not necessary for a delicious meal. You can make burgers, hot dogs or chicken legs taste pretty amazing too! One look at the meat department will prove to you that these foods are way cheaper! In fact, I recently stocked up on chicken legs for just $0.69 per pound.
Don't decorate
No need to decorate to have a great BBQ. It's simply not necessary to have a wonderful time!
Look for coupons
While coupons aren't exactly the same as they used to be, coupons are still great to use! You can still save a signficant amount of money by using them. Also, make sure to check out your club card or rewards account at your local store so that you can add any digital coupons that may be available.
Skip the Soda
Soda is extremely expensive and honestly, not very good for you. Why not skip it? You can swap it out for tasty and refreshing infused water.