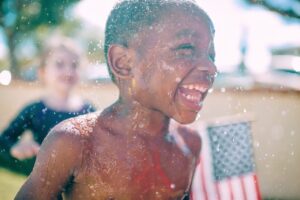 I'm back again with more great ideas of how you and your kids can have fun this summer without breaking the bank. The cost of everything else is going up too quickly these days so I want to help you save money where you can!
This time with your kids is important. The saying really is true that your kids aren't going to remember how much money you spent on them, but they will remember how much time you spent with them. Have fun spending time together with these great low-cost summer activities for kids. 
More Free and Low-Cost Summer Time Activities for Kids
Bike Ride
Can your kids ride bikes? If so, take them for a bike ride around the neighborhood or on local bike paths. It's a great way to get exercise and explore the surroundings. Kids will absolutely love it if you go with them! Even my big kids (19 and 15) still beg me to join them on bike rides. It's great bonding time. 
Nature Walks
Want to turn your activity time into learning time? Take your child on nature walks or hikes in nearby parks or nature trails. Teach them about different plants, animals, and ecosystems while enjoying the beauty of the outdoors.
My youngest loves to go on walks with me. He enjoys pointing out plants/rocks/animals he spots along the way. 
Water Play
If you have a water hookup at your home, you can do this for little to no money at all. Set up a water play area in your backyard with a sprinkler, water balloons, or a small kiddie pool. Children love splashing around and staying cool in the water during the hot summer months.
DIY Science Experiments
Are you in for some real fun?! You can conduct simple science experiments at home using household items! You can find numerous ideas online that are both fun and educational, such as making a volcano or creating slime.
Check out Youtube, Pinterest or even a simple Google search for ideas. 
Movie Nights
Want to build memories for you and your child? Plan a movie night at home. Put your phone away, pick some family-friendly movies, make popcorn, and create a cozy atmosphere with blankets and pillows. 
Your kids will love spending this time with you. 
Community Events
You might be surprised to learn just how many free and low cost events happen in your community. Be sure to check local community calendars for free or low-cost events specifically designed for kids and families during the summer months. These might include outdoor movies, concerts, art festivals, or sports activities.