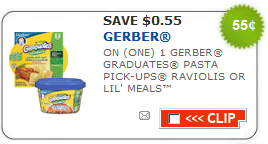 There are a coupe of new Gerber Graduate coupons available, in addition to the ones I have shared with you before.  here are the new additions:
SAVE $0.55/1 PASTA PICK-UPS® RAVIOLIS OR LIL' MEALS™
Save $1.00/2 YOGURT MELTS® OR FRUIT & VEGGIE MELTS™
The 55 cents one should be agreat one to have if you have a store that doubles coupons.  I see these on zipcode 90210.