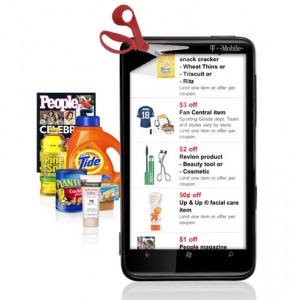 If you have a smartphone, text the word JULY4 to the number 827438 to get some great mobile coupons good at Target.  Here are some of the ones included in this batch:
$1 off Fresh Vegetable Purchase of $1 or more
$1 off Fresh Fruit Purchase of $1 or more
$1/2 Oscar Mayer Deli Fresh Lunchmeat
$1/2 Market Pantry Dry Pasta or Pasta Sauce
$1/2 Market Pantry Fruit Snacks
$1/2 Market Pantry Ready-to-serve Juice (64 oz)
B4G1 Free Market Pantry Macaroni & Cheese Dinner, maximum value $3.94
$1/2 Kraft Natural Sliced Cheese (7-8 oz)
$1/2 Triscuit Crackers
$0.50/1 Hellmann's or Best Foods Mayonnaise (15 oz or larger)
$0.75/2 Lipton Tea Items
$2/1 Bic Soleil Triple Blade Women's Shavers (8 ct)
$1/1 Centrum Flavor Burst Chews (60-120 ct) or Drink Mix (24 ct)
$1/1 CoverGirl Cosmetic Item
$1/1 Crest Toothpaste or Oral-B Toothbrush
$0.75/1 Scrubbing Bubbles, Windex or Pledge Cleaning Item
$1/1 Tide Laundry Item
$0.75/1 Shout Laundry Item
$1/1 Bounty Paper Towels, 6 pk or larger OR Charmin Bath Tissue, 9 pk or larger
$0.75/2 Ziploc Sandwich or Snack Food Storage Bags
$1/2 Glade Air Freshener Items
These ones don't expire until 8/7/13.  Check out other Target deals here.
Thanks Who Said Nothing in Life is Free!