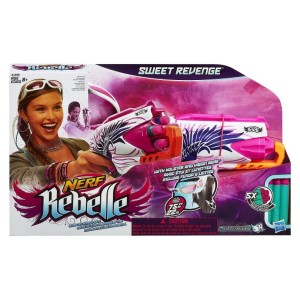 Print out the new $5.00 off Nerf Rebelle Sweet Revenge Blaster set, and possibly pay only $4.99 for it! Right now, this gun is $18.99 on Target.com and $9.99 on both [easyazon-link asin="B00CXLQG0M"]Amazon.com[/easyazon-link] and Walmart.com. Those last two prices are the ones you want to pay attention to…
If you can't find it for $9.99 at your local Walmart, head over to Target and use their handy dandy online price matching service. Guest Services will price match certain websites, including Amazon and Walmart. If you use your new coupon, you can pick this up for only $4.99!
See all of the Hasbro toy coupons available right now, and be sure to let us know if you find any awesome deals!