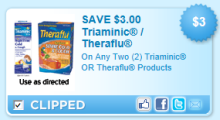 Head over and get your Triaminic or Theraflu printable coupons good for $3/2, and save it until 10/16 to use at Walgreens and get the following deal:
Buy 2 Theraflu Products at 2/$10 – receive $5 in RR.
Use the $3.00 Off Any 2 Triaminic or Theraflu Coupon
Pay $7 after coupons, and get back a $5 Register Rewards
That's like paying just $1 each.  This is a great price for stocking up on cold and cough products and get ready for cold season.  This deal doesn't start until 10/16, so until then don't forget to check out this week's Walgreens deals.