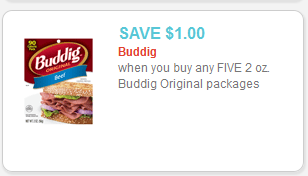 There is a $1/5 Buddig Original 2 oz Pkg printable coupon available. To get this coupon , first head over here and change your zip code to 55555, Then click here to go directly to the coupon.  Next time you're at Target be sure to see if your location carries Buddig Lunch meat.  Some have reported that Buddig Original Meat Packages are on sale this week at Target thru 7/27.  If you can find them you can get them for just 29¢ each.  Here's how:
Buddig Original Packages 2 oz – $0.49 (sale price thru 7/27)
Use $1/5 Buddig Original 2 oz Pkg
Pay $0.29 each after coupon
Pricing and availability may vary by region.  Take a look at other Target deals here.
Thanks Totally Target