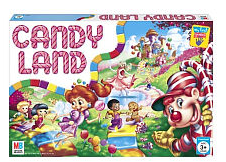 Hasbro released some high value Coupons that make will make for great deals at ToysRUs on board games.  I have not gone to my store to see if these prices are valid everywhere but here is what was reported:
Candy Land, $5
Memory Game, $5
Use $2/2 Candy Land AND Memory Game coupon
Pay $4 each after coupon
Connect 4, $10
Twister, $10
Battleship, $10
Trouble, $10
Use $4/2 CONNECT 4, BATTLESHIP, TWISTER or TROUBLE
Pay $8 each for 2 games after coupon
Monopoly Card Game, $5.24
Sorry Revenge Card Game, $4.98
Use $3/2 Hasbro Card Game
Pay $3.61 each for  2 games after coupon
I would call your local ToysRUs store before making a long trip.  Be sure to print your Hasbro coupons here.
Thanks My Frugal Adventures