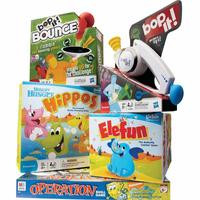 There are a buck of Hasbro Game Coupons available this morning.  Just in time too as this week Target has quite a few sales on Hasbro Games.  Here are some of the coupons available:
There are a couple of Target deals available:
CuponK, Connect 4 $8
Use $3/1 CuponK Game coupon or
Use $3/1 Connect 4 Game coupon
Pay $5 each after coupon
Operation Game $10
Use $3/1 Operation Game coupon
Pay $7 after coupon
Get a Free 6-oz. Reese's or Hershey's Egg (a $4.99 value) when you buy any Hasbro kids' game shown
Use $3/1 Bop It Game
Use $3/1 Elefun Game
Pay $12 for the game and Egg after coupon
This is a great time to get birthday presents.  My son recently turned 6 and the presents he has enjoyed the most have been these type of games. Finally, don't forget about the Free Tombstone Pizza coupon you can get via mail in rebate when you buy any Hasbro Game. The limit on this rebate is five, so you can get five coupons for a free pizza. but you need to send in your submissions separately, so split those transactions. You can print this rebate from Coupons.com.