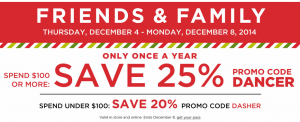 Kohl's has started a new sale today! More daily deals have been added and you can get 25% off your $100+ order with code DANCER or 20% off your order under $100 with code DAHSER! You can also use the code JEWELRY10 for $10 off your jewelry and wacth purchase of $50 or more.
We're also earning $10 Kohl's Cash for every $50 spent, and shipping is free on orders of $50 or more.
Here are a few deals I spotted. The prices listed are taking the 20% off code into consideration.
We'll be posting all of the great Cyber Monday deals we find in the Cyber Monday 2014 category.