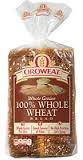 Saving money on bread is pretty important to me, especially in the summer, when sandwiches are the staple lunch and snack around here! I prefer to get the whole grain and wheat breads, not only because they're healthier, but also 'cause they're tastier!
Right now, you can print a new $1/1 Orowheat bread variety under zip code 90210. Plus, there's a Target Cartwheel offer you can stack with this for some cheap (healthier) bread!
Buy (1) Orowheat bread @ $2.99
– Use (1) $1/1 Orowheat bread variety
– Stack with 30% off Arnold, Brownberry or Oroweat bread (Target Cartwheel)
Final Price: $1.09!
If you don't see it right away in our Savings Center, type in the zip code and refresh the page. You can also come back to this page and and click on the coupon link again.
Don't forget to read the tutorial on how to find zip code specific coupons for more information on coupons in different areas!

Resources You Might Like:
Coupons.com