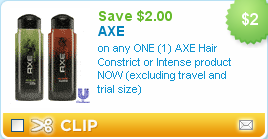 This month I have been really impressed with the great printable coupons that have come out. I have my hopes high for more awesome coupons in June. Here are some good ones that just came out yesterday:

$2 off any Axe hair or Constrict Hair Product (excludes trial size). I am feeling a CVS or Walgreens deal coming up. Usually high value coupons come with promotional campaigns at stores that sell the products.
$1 off Yo Plus yogurt. My kids love this yogurt and am very excited to see this coupon make a comeback.
$1 off Athenos Feta. I love this on a homemade greek salad (couscous, chickpeas, tomatoes and cucumber with Kraft zesty Italian dressing)
$1 off Del Monte fruit chillers (the tubes sell for $2 each at Walmart)
Buy one Get one Free Baskin Robbins 31 Below
Enjoy!