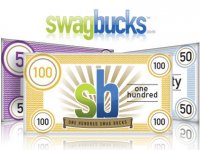 Swagbucks is offering new sign ups 50 additional Swagbucks when you use the code AUGUSTBONUS after you sign up for swagbucks. Add that to the 30 you get for just signing up and you get 80 bucks right off the bat.
If you are new to Swagbucks then let me tell you that Swagbucks is a search engine that randomly rewards you with Swag bucks every time you use it. The more you use it the more chances you have to win these Swag bucks and redeem them for free stuff. For example, one $5 Amazon Gift card is worth 450 swag bucks. Right now you are getting 80 swag bucks just for signing up
Sign up right now for Swagbucks and claim your 80 free codes. Then search the net using Swagbucks and keep taks on the Swag bucks blog and Facebook page for info on these additional swagcodes that will be available.
This code is valid through 8/15/11.