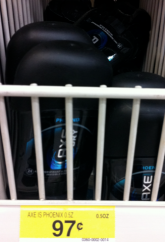 There are new Unilever coupons available to print. I wanted to highlight the $1/1 any Axe product coupon where you can snag free deodorant at Walmart plus more deals:
Axe Travel Size Deodorant – $0.97
Use $1/1 any Axe product coupon
FREE after coupon
Axe Gift Sets – $10.00
Use $2/1 any Axe gift set coupon
Pay $8 after coupon
Clear Men's Care Travel Size – $1.97
Use $1/1 any Clear men's product coupon
Pay $0.97 after coupon
Suave For Men Body Wash 18 oz – $1.50
Use $0.75/1 Suave Mens Product
Pay $0.75 after coupon
Please note that all coupons will print and that there is no way to stop it so be aware.  Here are the Coupons that will print:
Check out all the best Walmart deals here. Prices and availability may vary by region.  You may be able to find similar deals at Target as well. 
Thanks Wally World Woman