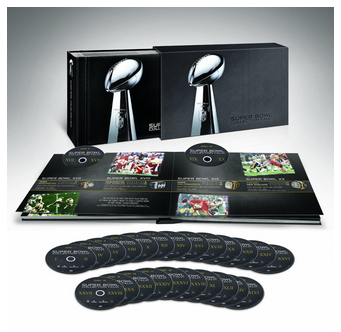 Do you know a die hard football fan? Check out this awesome NFL Super Bowl Collection I-XLVI
on Amazon for just $71.99, the lowest price it's ever been!
This collection includes 23 discs with 45 hours of NFL action. It also contains a 26-page Retrospective Book with foreword by Steve Sabol and a bonus program counting down the top 10 super bowls as ranked by NFL Network.  Football fans can lose themselves in unforgettable moments, historic images, and legendary icons throughout Super Bowl history – up until now, anyway.
This is the lowest price that this collection has been, so you might want to jump on this before the price jumps back up to well over $100 again. If you order soon, you should have it in time for this year's Super Bowl.