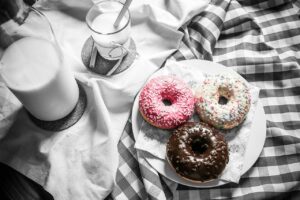 Are you trying to think of non-cake options for birthday parties for an upcoming birthday party in your family? I hadn't given a non-cake party a second thought until my daughter broke the news to me years ago that she doesn't like cake. 
While it may seem like cake and birthdays go hand in hand, the reality is, there are quite a few great desserts that you can enjoy instead! I like cake, but I really like other desserts too, so I have gone cake free on my birthday before and I love it. There is just something fun about doing things a little bit differently. 
Non-Cake Options for Birthday Parties
Pie
Pie isn't my favorite dessert, but it's a classic sweet treat that many people enjoy so there's not reason to not add this one to the list of goodies to enjoy on your birthday. 
The great thing about pie is that there are virtually endless flavor ideas so you can choose your favorite for your birthday choice. 
Brownies
If you like chocolate, brownies are a great alternative to cake! Who doesn't like brownies, anyway. I love the idea of stacking them up in a fun pyramid and topping with candles or cute toys or even some candies. 
Cookies
Cookies stacked up on a platter are always good, don't you think?! I love a good chocolate chip cookie, but the great thing is, you can use multiple cookie types to create your cookie platter for your party. 
Rice Crispy Treats
Oh yes! Rice Crispy Treats are a super fun alternative to cake! They are crispy and oh so fun! And they aren't just for kids either! I am a fully grown adult and I love rice crispy treats. 
Donuts
Talk about easy! If the birthday boy or girl likes donuts, head to your nearest grocery store or donut shop and grab a dozen donuts and pile them high!