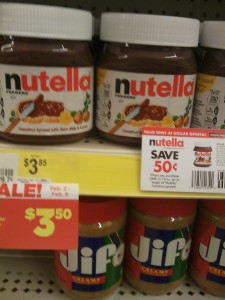 You might be able to snag an awesome deal on Nutella at Dollar General.
While I was there earlier, I found tearpad coupons for $.50/1 Nutella Dollar General Store coupons next to the Nutella, which is currently on sale for $3.50. I also had my BOGO FREE Nutella printable from Smart Source, and I got a pretty smokin' deal.
Here's what I did…
Bought 2 Nutella @ $3.50 each ($7.00)
Used 1 BOGO FREE Nutella coupon (-$3.50 Smart Source)
Used 2 $.50/1 Nutella Dollar General store coupons
Final Cost: $2.50, or $1.25 each! 
Yay!