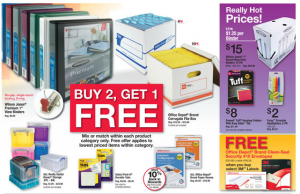 Here are the Office Depot deals for March 11 through March 17.
There will be a 3 day sale for March 11-March 13. Check out the 3 day sale items:
PaperMate Erasermate Pens, $1
Sharpie Fine Permanent Markers, $1
Microsoft 3500 Wireless Mobile Mouse, $9.99
Hammermill Copy Plus Paper, $2.99
Office Depot Brand Sugar Cane Paper Perforated Pads, 3 Pack, $1
Office Depot Brand Plastic File Totes, $8
All Kodak Cameras on Sale
These following deals are valid for March 11 through March 17:
Buy 2 Get 1 Free
Office Depot Brand Corrugate File Box
Wilson Jones Premium 1″ View Binders
ALL Office Depot Brand Paper Reams
Select Post-it Durable Tabs
ALL Really Useful Boxes Storage .07L – 64L
More Deals
Select Sharpie Markers and Highlighters 12-PK, 2 for $10
Paper Mate Profile™ or Pro-Fit™ Retractable Ballpoint Pens 12-PK, 2 for $15
Brother P-Touch PT-1290 Labeler, $19.99
Brother Simply Stylish Tapes, 3 for $30
Wilson Jones 1″ Round-Ring View Binders 12-PK, $15
Foray™ Erasable Highlighters 3-PK, $2
Smead Tuff Hanging Folders With Easy Slide™ Tab, $8
You can see the Office Depot weekly ad here. Make sure to select the correct dates.