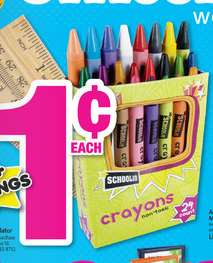 Here are the deals at Office Max for the week of July 31 to August 6.
Penny Items
Schoolio Crayons 24 pack (regular price $0.99)- Limit 2.
12 Inch Wood Ruler and Metal Edge
$0.10 Items
Dixon #2 Pencils 10 pack (regular price $0.99 each)- Limit 2.
$0.50 Items
All Schoolio 100 Sheet College Ruled or Wide Ruled Marble Composition Notebook- Limit 4.
$1.50 Items
All OfficeMax 1 Inch Standard Binders.
$2.00 Items
All OfficeMax 1 Inch Durable View Binders
Buy 2 Get 1 Free
Fashion Binders, Folders, and Notebooks
All Crayola Art Supplies
All Avery Sticky Notes
Schoolio 1 Inch or 1.5 Inch Poly Binders
Select SCOTCH Tape and Post-It Notes
Boise X-9 8.5X11 Paper 500 Sheet Ream
All OfficeMax Poly Notebooks
Buy 2 Get 2 Free
All Expo Dry Erase Markers
All Bic Pens, Pencils, Highlighters
To view more OfficeMax Deals, view your local weekly ad here.