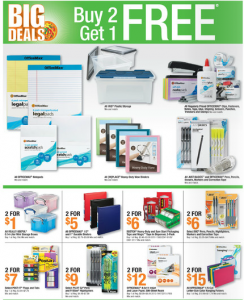 Here are the OfficeMax deals for March 11 through March 17.
Buy 2 Get 1 Free
OfficeMax Brand Ink and Toner Cartridges
OfficeMax Notepads
All IRIS Plastic Storage
OfficeMax Clips, Fasteners, Notes, Tape, Glue, Stapling, Scissors, Punch
All JustBasics and OfficeMax Pens, Pencils, Erasures, Markers, and Correction Tape
All [In]Place Heavy Duty View Binders
Dollar Deals
All Really Useful .14L Mini Storage Box, 2 For $1
O-Cedar Microfiber Duster, $3
O-Cedar Hardwood Floor N More Microfiber Mop Refill, $4
All OfficeMax Durable 1/2″ and 1″ Binders, 2 For $5
Scotch Heavy Duty Tape and Sure Start Packaging Tape and Magic Tape in a Dispenser, 2 For $6
Select Bic Pens, Pencils, Markers, Highlighters, 2 For $6
O-Cedar Quick Wring Bucket with Easy Pour Spout, $6
Select Post-it Tabs and Flags, 2 for $7
Select Pilot G2 Pens and FriXion Highlighters, 2 For $9
OfficeMax 8.5″ X 11″ InkJet and Laser Paper, 500 Sheet Ream, 2 For $12
All OfficeMax 1/5  Cut Letter Size Color Hanging Folders, 2 For $15
More Deals
Save up to $150 on Select Computers, Plus Save an Extra $200 When You Trade in a Laptop
Free Shredder with Purchase of Neat Scanner
Save up to 50% on all Printers
Get a Free $5 OfficeMax Gift Card with the Purchase of H&R Block At Home Premium and Business Fed and State
Save up to 50% on Furniture
See more deals from the OfficeMax weekly ad here. Make sure you select the correct dates.