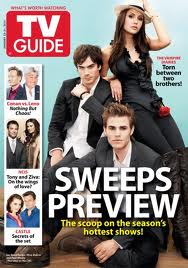 Craving that inside scoop on your favorite television programs, celebrity interviews or just want to be in the know on the upcoming programming?
Right now Amazon has a one year subscription to [easyazon-link asin="B003N3QRFI"]TV Guide (1-year) (Print + Kindle)[/easyazon-link] for $20 that's a 91% savings from the cover price!  You get 56 issues which works out to be just 36 cents per issue. 
Plus when you subscribe to the print version it Includes FREE Kindle subscription for the Kindle devices and Kindle reading apps.
TV Guide is now Full-Size, Full-Color, for people who are passionate about their favorite shows, characters, and stars. Plus, an easier-to-use national listings section with more highlights and reviews.
Please note that amazon pricing can change without warning so always verify before you make a purchase.