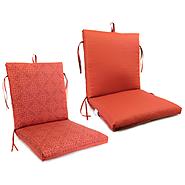 It's a good time to start picking up summer items, like patio furniture and grills, since these are just starting to go on clearance. Since it's still pretty early, there's likely to be more selection.
If you're looking for some outdoor items, you might want to check Kmart's end of season clearance sale. Patio furniture is marked up to 70% off and grills are up to 30% off. I also found some outdoor chair pads for $4.99. Outdoor patio cushion sets are just $12.49, and pillows are just $11.49.
This is a nice way to revamp your patio on a budget! It's much cheaper than buying all new patio furniture.
Shipping is free on orders of $59 or more, but you should be able to pick up most of your items for free at your local store.
Resources You Might Like: