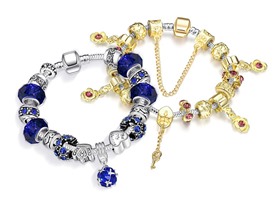 I love the descriptions on Woot! This one is hilarious! "But who's to say what counts as significant? Maybe it's the day you met your spouse or had a child. But maybe it was the day you polished off an entire XL frozen pizza by yourself. Or the day you marathoned 14 straight hours of Downton Abbey. All that matters is that you celebrate the things that are important to you." Perfect for Back to School! SO MANY fun patterns and colors!
Check out the deal Woot has today only – Pandora Inspired Bracelets priced today at just $10.99! While supplies last. Today only.
$5 Ships Your Entire Order! One $5 charge covers standard shipping to a single address for everything in your cart, as long as it's all going to the same address!