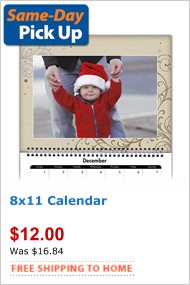 Personalized photo calendars make great last minute gifts! You can also create them online and pick them up in your local store the same day, so you don't have to worry about whether it will arrive in time.
After looking around a bit, I found two different stores with decent deals on calendars you can pick up the same day.
Walmart: Personalized 8×11 wall photo calendars are on Rollback for $12. (Originally $16.84.) Just go to the Walmart website, create your calendar, pay for it, and pick it up later today.
Walgreens: Custom 8×11 photo calendars are usually $19.99. If you use the code NEWCAL at checkout, though, the price will drop to $11.99. Go to Walgreens Camera & Photo online, choose "Calendars" at the top, create and pay for your calendars, and pick them up later.
Snapfish also has a good deal on photo calendars right now. They're offering a 2014 Photo Calendar Gift Pack (3 calendars) for $26.99. While you can't pick them up the same day, you can choose 2-day shipping at checkout, which is $8.99. Your total will be $35.98, which equals out to about $11.99 per calendar shipped, and you don't have to worry about picking them up.