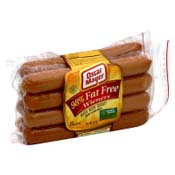 The front page of my Piggly Wiggly ad has Oscar Mayer hot dogs on sale 2/$2.88. But then it says that whe you buy two a coupon for $2 off your next order will print out. That's like paying 88 cents for two packs. The offer is limit two. But what a great deal.
Here are other deals I saw:
Oscar Meyer Lunchables 3/$5
Use $0.75/1 Oscar Mayer lunchables printable coupon
Pay $0.91 each after coupon
Dannon Activia Yogurt 2/$3.98
Use $1/1 Activia Product, exp. 3-31-10 (SS 02/07/10)
Pay $0.99 each after coupon
Promise Margarine $2.24
Use $1/1 printable coupon
Pay $1.24 each after coupon
Skippy peanut butter $1.68
Use $0.40/1 Skippy Peanut Butter Product, exp. 2-28-10 (RP 01/31/10)
Pay $1.28 each after coupon
Make sure your store ahead of shopping there if you are not sure whether they take printable coupons or now. If they don't, you can always price match at Walmart or Target.