I don't know about you, but I am really looking forward to throwing some fresh pineapple on the grill this summer!  I am starting to see fresh pineapple on sale all over the place, but it is such a pain to cut.
That's why I am totally going to order this new corer, peeler and slicer on Amazon: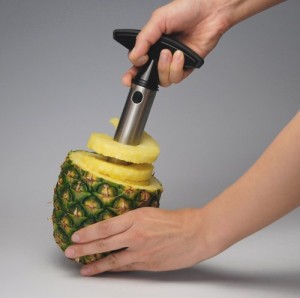 All you have to do to prepare a pineapple is stick this pineapple parer, slicer, corer into the top of the pineapple and turn it. It does all of the work for you!
Right now, it's only $4.38 with free shipping too, which makes it a pretty great deal! I might just get two…