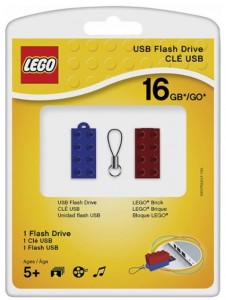 Fun stocking stuffer for students and adults! Best Buy has the PNY LEGO 16GB USB 2.0 Flash Drive for only $7.99 shipped! Details include:
16GB capacity offers ample room for pictures, videos, music and more, so you can easily store, transport and share your files.
High-speed USB 2.0 interface makes it easy to connect your compatible PC or Mac laptop or desktop.
Includes a LEGO brick that can be added to the flash drive for a fun, playful look.
Capless, sliding design allows quick access to stored content. Colors vary between Blue USB with Red Brick, Red USB with Blue Brick and Yellow USB with Blue Brick
You'll score FREE 2-day shipping with this purchase, so you'll definitely be able to receive this with enough time to wrap it up and place it under your Christmas tree!