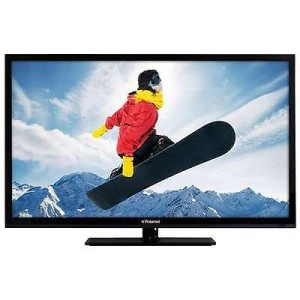 If you've been looking for a decent deal on a new TV, you might want to consider this one. Tiger Direct has this Polaroid 39″ Class 1080p LED HDTV
 marked down to just $229.99 with free shipping on their eBay account right now, which is a pretty decent price on a brand new HDTV of this size.
There's also a $40 rebate that you *MIGHT* be able to get, which is listed right on the TigerDirect website. The terms and conditions of this rebate state that it's valid on purchases made from the TigerDirect website. However, some people on other forums have reported success in getting rebates from TigerDirect even when purchasing the items from their eBay accounts. Apparently, orders from both websites are processed through the same system. Of course, keep in mind that the rebate is NOT a sure thing, but it's worth a shot if you decide to buy this TV anyway. Think of it as a nice bonus if it goes through.
Okay, back to the TV. I won't pretend to know what most of this means, but here are more details and the product description…
Note: The condition of this item is New
Mfr Part# 39GSR3000
Enhance your TV viewing experience with the new Polaroids 39″ Class 1080p LED HDTV. This 39″ Class LED HDTV features a high resolution of 1920x1080p, so you enjoy watching your Full HD movies with stunning clarity like never before. With the response time of 5ms and 60Hz screen refresh rate, it delivers life-like clarity and exceptional picture quality even during fast on screen motion. This slim LED TV complies with Energy Star Standards to ensure low power consumption, so youll save both energy as well as the overall environment. Order the Polaroid 39″ Class 1080p LED HDTV today for an amazing home entertainment!
Display Class: 39″
Diagonal Size: 38.5″
Display Type: LED
Aspect Ratio: 16:9
Contrast Ratio: 1000:1
Resolution: 1920 x 1080
Screen Refresh Rate: 60Hz
Response Time: 5 ms
Signal Compatibility: 1080p
Signal Compatibility: 480i
Signal Compatibility: 480p
Signal Compatibility: 1080i
Signal Compatibility: 720p
Features: HDMI
Features: PC Input
Inputs: HDMI
Inputs: RF
Inputs: PC Audio In
Inputs: Composite A/V
Inputs: USB (Service Only)
Inputs: PC/VGA
Inputs: YPbPr / Component
HDMI Ports: 3
Speakers: 2
Power Consumption: 90W
Dimensions With Stand: 35.4″ x 23.2″ x 8.2″
Unit Weight: 21 lbs.
Specification Notes: [1] To provide the most accurate specifications, the specifications listed are based upon the manufacturer's exact model specification as published on the manufacturer's website, and the manufacturer's product documentation.