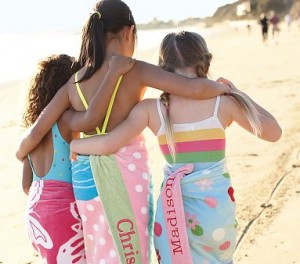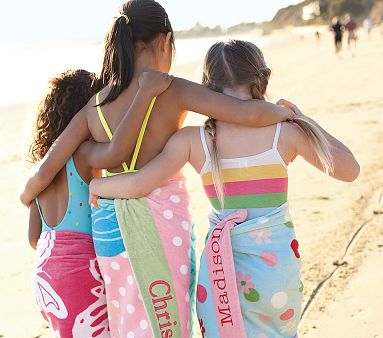 Update:  The monogramming is no longer free today 12/1.
Here's a store I love to window shop a LOT, but hardly ever (or more like only once) get to shop. But check out this really sweet deal on personalized beach towels for kids.  The following are $9.99 and the monogramming and shipping are FREE!  Here's the list of what's available.  If you don't see the $9.99 price for each, use the item number to look for the item:
Shark Beach Towel Item number: 68-7943178
Fish Beach Towel  Item number: 68-7943137
Polka Dot Flower Towel Item number: 68-55-7943152
Mermaid Towel Item number: 68-7943160
Mermaid Mini Beach towel Item number: 68-7942618
The following two wraps are $12.99 each and still free shipping and monogramming:
Girls Fish Beach Wrap Item number: 68-7943681
Boys Fish Beach Wrap Item number: 68-7943665
Now, excuse me while I go put in my order.  Happy savings!