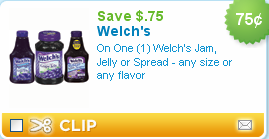 I love Coupons.com!  Lately they have been putting out some really great printable coupons.  I just spotted the above coupon for $0.75/1 ANY Welch's Jam, Jelly or Spread.  If your store doubles, this would probably make for free or close to free jelly.  Even if your store doesn't double, I am excited about this coupon because it's higher value than what you will find for this product in the newspaper inserts.  I am printing it now as I also noticed that the Milano Cookies coupon I blogged about two days ago is no longer available.
I told you this was a great time to stock up on Back to School essentials, not only school supplies but lunch box staples such as PB&J sandwiches.  Happy Savings!
Update: Use in combination with coupon for $0.75 off milk wyb any Welch's squeezable jam from 7/26 SS inserts for a better deal.  Thanks Modern Day Mom!