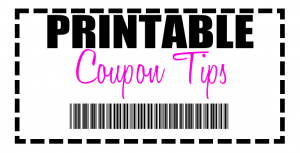 Printable coupons are one of the best inventions in the couponing world since…well, since the invention of newspaper inserts! That's my own opinion, of course, but you can't deny that printable coupons have changed the way most of us can save.
We no longer need to wait for the Sunday paper each week, and finding coupons for just about anything is now very possible.I, myself, prefer printable coupons over insert coupons. They cost me much less than buying several papers each week, not to mention they're way more convenient. In fact, these days I use primarily internet printable coupons and only buy extra Sunday papers during heavy duty coupon weeks.
Printing coupons isn't exactly rocket surgery, but it can be tricky at times. Here are a few tips to help you find, print, and use printable coupons.
1. Check Printable Coupon Sites
There are lots of great websites out there now for printable coupons. My favorites include Coupons.com, RedPlum.com, and Smartsource.com. These are the main printable coupon sites where you'll find the most coupons.
2. Swing by Manufacturer Websites
If you're looking for a coupon for a particular brand, you may have luck on the company website. Look for a tab or menu item that says "Coupons", "Savings", or "Offers". You might also want to sign up for your favorite brands' newsletters and follow them on Facebook or Twitter.
3. Check Every Day
The key to snagging some of the best printable coupons is to check for new offers every day. Many coupons are released in the middle of the night or early in the morning. Browse through your favorite coupon sites each day to ensure that you don't miss the savings.
4. Follow Coupon Bloggers
As coupon bloggers, we try to stay on top of all of the new printable coupons being offered. Here on Common Sense With Money, for instance, we'll post a list of new coupons each morning. We also try to post alerts when new coupons pop up throughout the day.
5. Don't Forget to Change Your Zip Code
If you head over to our Savings Center, you'll notice that there's a box to change your zip code. After changing your zip code, you can sometimes find some great coupons hidden there! Try several different zip codes, not just your own. Some of my favorite zip codes for zip code specific coupons include 77477, 12345, 90210, and 30303.
More Frugal Living Resources: