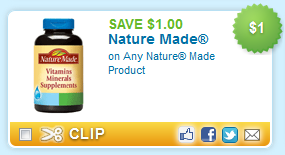 Here are a few more printable coupons currently available:
$1/1 Nature Made Product (Use zip 30033)
$5/1 Rembrandt 2-hour Whitening Kit (Use zip 30033)
$0.75/1 Bob Evans Refrigerated Side Dish (Use zip 30033)
$1/1 Al Fresco All Natural Product, 8 – 16 oz
$1/2 Post Grape Nuts, Shredded Wheat, or Raisin Bran Cereal, 15 oz+ (Use zip 62946)
$1/1 Lysol Disinfectant Spray, 12 oz+
$1/1 Dunkin Donuts Coffee, 11 oz+ bag (Use zip 62946)
$0.50/1 FINISH JET-DRY Rinse Agent or Turbo Dry
$0.50/1 FINISH Dishwasher Cleaner
$1/1 OLD ENGLISH Furniture Polish
$0.50/1 EASY-OFF Heavy Duty Oven Cleaner or  Fume Free Oven Cleaner
$0.50/1 RESOLVE Laundry Stain Remover Product
$1/1 Alka – Seltzer Plus Product (Use zip 62946) *manufacturers coupon*
$1/5 Campbell's Condensed Soups (Excluding Great for Cooking Soups)
$1/1 Village Naturals Body Shoppe Product (Use zip 60625)
Thanks, Printablecouponsanddeals!
Can't find the coupon you want? Search my Coupon Database. Also, you will always find printable coupons available on the following websites: Coupons.com, Red Plum and Smartsource.