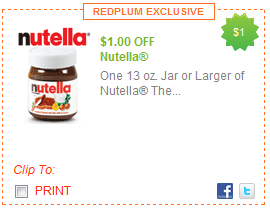 There are a TON of new coupons available this morning. But I am most excited about this $1/1 Nutella Spread coupon. I have never seen this one available as a printable. Here are other printable coupons available:
$1/2 Life cereal
$1/2 Cap N Crunch cereal
$0.50/1 Mahatma Rice (if you have store that doubles could make small bags free)
$0.50/1 Simply Asia product
$0.50/1 Thai Kitchen product
$1/3 Libby's canned vegetables
And MORE! Stop by Red Plum to print these coupon and see the many more available.