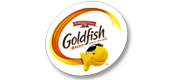 Pepperdidge Farms has a new great coupon available on its website: Save $0.75/1 Pepperidge Farm Goldfish Original, Pretzel or Flavor Blasted crackers. This coupon is great if your store doubles but it is also good if your store put these one on sale for 10/$10 or buy one get one free.
Coupons.com has also added a few more coupons:
Save $0.55 off one Pepperidge Farms bread
Save $0.50 off one Old Orchard Juice 64oz
Save $1.00 off two Healthy Balance Cocktail
Save $1.00 off four Old Orchard Concentrate
Save $1.00 off two Chiquita Smoothies
$1 off any one Freschetta Pizza
Another coupon available is:
Save $0.75 off Izze Drinks Thanks Free Snatcher!
Happy Savings!
Looking for more printable coupons? Don't forget to search my Coupon category. This is easy to do by using the search bar located right at the top of my blog. Also, you will always find printable coupons available on the following websites: Coupons.com, Red Plum and Smartsource.