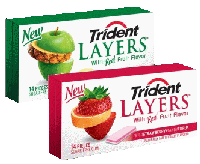 This evening I am thrilled (doesn't take very much it seems ;-)) about this $0.75/1 Trident Layers Gum. If you have a store that doubles coupons it would most lakely make for free single packs ans they retail for $1.49 or so. if you do not have a store that doubles coupons hang on to this coupon and use at Walgreens, Rite Aid or CVS. All of them run sales on gum and candy often.  Thanks PrintableCouponsandDeals!
Here are other coupons available:
$1/2 Campbells Select Harvest Soup (has anyone stopped by Walmart to check if these are on sale for $1? Other Campbell's soups are on sale at that price)
$1/1 Citrus Magic Air Freshener
Looking for more printable coupons? Don't forget to search my Coupon Database. Also, you will always find printable coupons available on the following websites: Coupons.com, Red Plum and Smartsource.