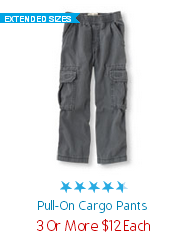 Head over to The Children's Place for some nice deals on clothes for back to school! You'll get 20% off everything at The Children's Place when you use the code TAKETWENTY3 at checkout!
These pull-on cargo pants caught my eye. Originally these were $17.97, but you can get them for just $12 per pair when you buy three or more. Use your 20% off savings pass code and pay just $28.80 for all three, or $9.60 per pair!
THere are lots of other great deals to be had, so make sure you check it out! This sale is valid through 8/3/14.